A "hub" is a pivot, a focus of activity. For Pelikan fans, a Hub is a place where they can meet, exchange experiences, and network worldwide.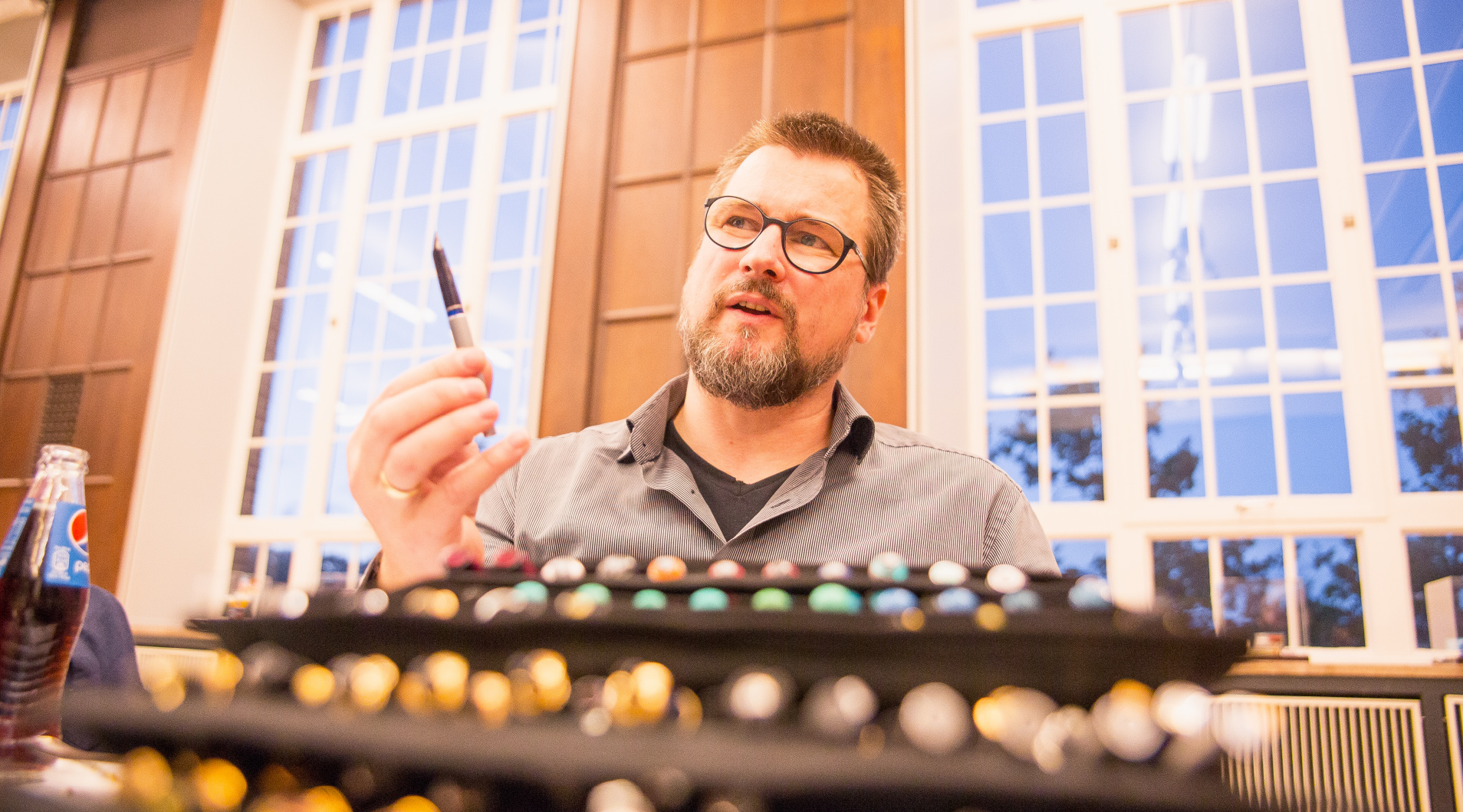 A success story that traces its origins back to 2014. The event has now established itself in the minds and hearts of its participants: At the first Pelikan Hub in 2014, approximately 900 enthusiasts of fine writing instruments came together, while in our 2018 anniversary year almost 5,000 excited fans took part in the worldwide events. At 181 local Hubs in 46 countries, from Sydney to Seattle, Pelikan fans met up and discussed writing and writing instruments on this exceptional day.
The delight provided by this event stems from its essence: It is a meeting organized by fans for fans, all jointly driven by a passion for writing instruments. The Hubs keep growing in popularity every year – in 2019, multiple thousands of passionate Pelikan fans will once again network around the world to enjoy together an extraordinary evening devoted to writing instruments!
All the Facts at a Glance
Experience passion for writing instruments live – and enjoy a conversation with other Pelikan fans! On September 25, 2020 at 6:30 p.m. local time, Pelikan fans all around the world will be meeting up again to celebrate their love of writing instruments for the sixth time already!
Still have questions? Here are all the answers at a glance:
---
FAQ for participants
What is a Hub?
The word "hub" means, among other things, the center and focal point, or the heart of it all, so to speak – a place from which things radiate out into the wider world. What's more, since the name is short and sweet, we thought it would be a good match!
What is happening?
We are setting up meet and greets with Pelikan fans on specific dates in cities around the world.
Why?
Because it's fun! And because there is nothing nicer than a shared passion.
When?
On Friday, September 25, 2020 at 6:30 p.m.
How?
Fans can register on our Web site to participate.
They can take their pick of cities and also suggest other ones where a Hub can take place.
What happens on Hub night?
Guests can compare their writing instruments.
They can simply sit together and talk about fountain pens.
Or dance the night away – we'll let them decide!
During the meetup, we will ask all fans to upload their photos with the hashtag #pelikanhubs on their social media, such as Instagram, Facebook, Twitter, etc. –– so we stay connected with each other worldwide using the one tag!
---
FAQ for hub masters
What is a Hub Master?
The Hub Master is the direct point of contact and organizer for all of a city's participants. Fans can apply to become a Hub Master when registering and will have to answer the corresponding question. The Hub Master position is a voluntary one and will not receive compensation from Pelikan. The Pelikan Hub is an event by fans for fans!
Who can become a Hub Master?
Anyone who would like to organize, communicate with other participants, and take care of the on-site specifics. Specialty retailers can also become Hub Masters and host the evening in their store, if they would like. It should be noted, however, that the Hub is not meant to be a sales event.
All "Pelikan Hubs" will be organized locally by a "Hub Master" appointed by Pelikan. Basically, this is an event by fans for fans, with Pelikan providing support on the side.
How does a fan become a "Hub Master"?
What is important to us is why an applicant wishes to be a "Hub Master".
For this reason, we would like to get a few sentences from each applicant on their motivation for taking on this task. The questions will be asked during registration.
Who selects the "Hub Master"?
Pelikan will select the Hubs (i.e. the cities where the meetups take place) and Hub Masters based on the number of people who register. A minimum of seven participants will be required for a Hub to be established. If too few people register for a Hub, we will get in touch with them in enough time so that they can register for another Hub nearby.
What are the tasks of the "Hub Master"?
The "Hub Master" will organize a suitable venue, e.g. a restaurant, café, or similar, in a central location, and will reserve a table based on the guest list. Once the venue is finalized, the Hub Master will inform the participants about the venue details and provide contact information.
If participants still have questions about the event when there, the Hub Master will be the person to speak to.
How does the "Hub Master" know who is participating in the Hub?
Pelikan will send the Hub Master the e-mail addresses of all Hub participants in his or her city so that further details can be arranged.
What tasks will the Hub Master have on Hub night?
The Hub Master will be the host for the evening. That means he or she will take care of the Hub guests and maybe say a few words to welcome everyone. Pelikan has prepared small gifts for all registered participants, which the Hub Master will distribute among the guests. The remainder of the evening will follow naturally as everyone present will enjoy talking about writing and writing instruments.
What about photos and videos taken during the Hub event?
During the meetup, we will ask all fans to upload their photos with the hashtag #pelikanhubs on their social media, such as Instagram, Facebook, Twitter, etc. For this, we will prepare a form asking for the participants' consent to being photographed or filmed. We will ask the Hub Master to ensure that this list is signed off. It will also be important for the Hub Master to ask at the beginning of the evening if there is anyone who does not wish to be photographed and/or filmed and to tell the group about this.
What happens after the Hub?
If photos and videos have been created, we would be delighted if the Hub Master shared them with us. Provided, of course, that all the visible guests have given their consent.
Anything else?
Everything else to do with the Hub night is up to the guests!
Terms and Conditions of Participation and Privacy Notice You can view the Terms and Conditions of Participation and our Privacy Notice here.
---
Would you like to become part of this fan community?
Register on our Web site to participate. When a proposed Hub reaches 7 participants or more, we will approve the Hub for the city.
Would you like to organize a local Pelikan Hub as a Hub Master? Then you can also apply to become a Hub Master when you register to participate!
Everything involved with this is explained in our FAQs.
If you don't want to wait until September 25th, you can already exchange ideas with former hub participants and participants for this year. Just join our Pelikan Hubs group on Facebook and get started. https://www.facebook.com/groups/PelikanHubs/